Spinal Decompression Therapy for Back and Neck Pain Relief
Relief without Surgery or Medication
Non-surgical spinal decompression therapy is a non-invasive treatment that provides long-term back pain relief.
The main goal and outcome of this approach is to reduce internal disc pressure and allow bulging and herniated disc material to migrate back into its proper position. In the process, hydration, oxygen, and nutrients are drawn back into the spine, creating the right conditions for healing and long-term spine and nerve health.
Who is a candidate for non-surgical spinal decompression therapy?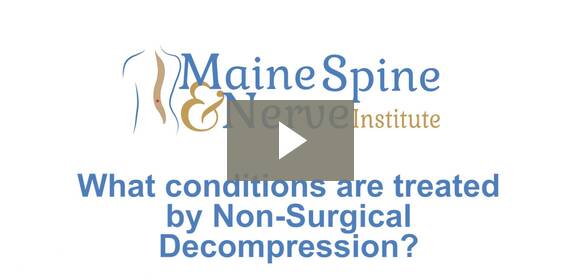 We can't diagnose anyone online, but we would recommend an in-office consultation if you are experiencing any of the following:
Chronic back pain with or without buttocks and leg pain.
Chronic neck pain with or without arm pain.
Sciatica (normal presents as shooting leg pain)
Degenerative disc disease
Bulging discs
Herniated discs
Stenosis
We also recommend a consultation to those who can't find pain relief:
After back surgery that may have offered short term relief, or no relief at all.
After neurosurgery, orthopedic surgery or laser surgery that may have offered short term or no relief at all.
After a recent back injury at work, from a car accident, a slip and fall, or just doing normal duties at home.
After trying other methods of treatment, such as medications, physical therapy, spine injections, chiropractic, acupuncture, massage etc.
For most of the people we have treated, surgery would have been the only other option and the next logical step. They (and their referring doctors) are always relieved to avoid that last-resort course of action.
How does non-surgical spinal decompression therapy work?
Non-surgical spinal decompression is a relatively new treatment method based on the long-standing knowledge that the spine can heal if the blood supply is unobstructed and fluids and nutrients are able to flow freely into the disks and surrounding tissue.
Conversely, when those pathways are blocked, so is the body's ability to truly heal.
because back surgery, as most doctors will tell you, should only be a last resort, specialists have long sought to achieve non-invasive decompression.
But it wasn't until 1991 that major progress was made in this area. That year, a team of doctors, engineers, and technicians led by Ontario's Former Deputy Minister of Health, Allan Dyer, MD, PhD introduced the first generation of medical equipment for non-surgical spinal decompression.
As practitioners began to adopt the technology, results began to come in.
In 1998, a study was done showing a success rate of 73% (Gose. et. al.: Vertebral Axial Decompression. Neurological Research, 1998).
In 2003, another study came out with a success rate of 86% (Thomas A: Spinal Decompression. Orthopedic Technology Review, 2003).
And in 2005, a third study showed a success rate of 90%. (Wooridul Neurosurgery Clinic, 2005).
At Maine Spine and Nerve Institute we use the same medical equipment that was used in the clinical research that achieved the above mentioned impressive results. Each treatment gently opens the spine to allow more hydration and protein in, reduces the pressure in the disk, and ultimately allows your bulging or herniated disks to migrate back into position. This is a controlled process executed with computerized precision; and as such, it produces more consistently positive patient outcomes than other non-surgical techniques.
At Maine Spine and Nerve Institute, our own success rate for patients who have not found relief through other forms of treatment (PT, acupuncture, chiropractic, surgery, spine injections, etc.) is consistently 80% for initial treatment and 90% at a one-year follow-up.
More than just technology
Because of the precision it brings, we couldn't achieve the results we do without computerized spinal decompression equipment.
Similarly, equipment alone is not enough to heal the serious conditions we treat. In fact, there have been cases of injury when spinal decompression equipment was used by non-credentialed, unqualified operators.
Ultimately, its Dr. VanderPloeg's deep experience and expertise combined with the medical equipment that produces our consistent results. He is able to determine which areas to focus on, how much decompression is appropriate, and what complementary steps each patient should take to support the treatment process.
Every patient is different; but with nearly 30 years of experience and over 10 years performing non-surgical spinal decompression, Dr. VanderPloeg is able to treat a wide range of chronic spine and nerve conditions.
To determine whether you might be a candidate for non-surgical spinal decompression, fill out our brief questionnaire and we will be in touch. Or if it's easier, give our office a call during normal business hours at 207-219-8078.
---
---
Do You Have Questions About Our Spine Treatment?
---
Patient Success Stories